ERP Solutions
eZnetERP from vStacks Software Solutions incorporates all features of a business operation including manufacturing, inventory control, product planning, sales and marketing, distribution, finance, HR and accounting. We can also offer customised solutions for the industry the ERP has to be set up in.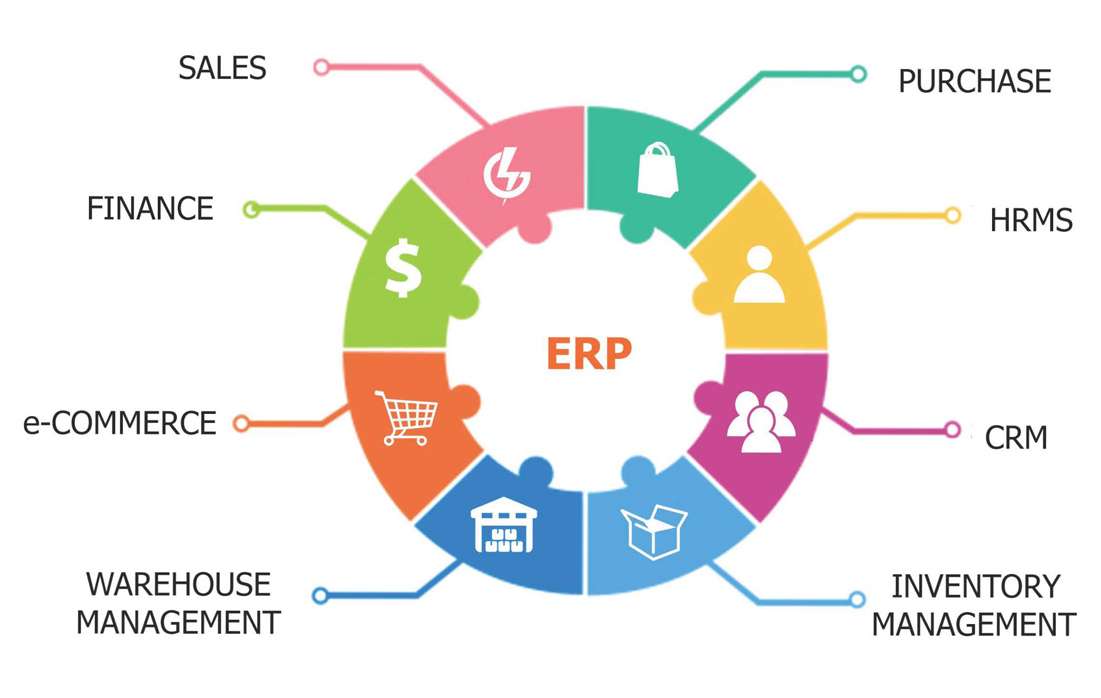 Product Highlights
HRMS
Clutter free and efficient solution to manage your employee files through Employee Management Module.
Automated tracking of employee Attendance and absence through Leave Management Module.
Automated recording of employee shift timings and attendance through Time & Attendance.
Tracking of employee attendance and leave through Payroll Management System.
Employee loan policies and their entitlements through Loans and Advance Management Module.
Control of company assets through Asset Management Module.
Tracking and scheduling of employee training through Employee Training Module.
e-COMMERCE
Catalogue management for building, maintaining and regularly updating the product database.
Online shipping and payment management.
Order and customer management.
e-commerce marketing.
Integration with BuySafe, ShopZilla, Google, Yahoo, etc.
INVENTORY MANAGEMENT
Simplify all your warehouse activities .
Organise information and automate all your processes. eZnetERP can utilise bar-codes, Wireless Tracking Technology and RFID .
Track the cost of materials used in providing services .
The mobile app provides your sales people with complete flexibility .
Manage your online sales, controls your inventory and keep track of your purchase information.
PURCHASE
Control your budget by enforcing purchase approvals .
Improve budget compliance and eliminate unwanted spending .
Enable strategic purchasing initiatives like lowering prices of goods and services that you are paying during day to day operations of your business.
SALES
Uncomplicated sales pipeline management which provides for constant updates, reminders, follow up alerts and notifications for assigned tasks and approaching deadlines.
Easy to use.
Integration of instant sales.
Create your own dashboards and share information with sales reps, executives and partners.
Enable everyone to search, filter and modify reports, as well as create their own reports.
CRM
Management of company contacts and all other relevant information through Contact Management Module.
Generating revenues through Lead Management Module.
Improving management of documents with electronic procedures through Document Management Module.
Management and customisation of tickets through Ticket Management Module.
Managing calendars, schedulers and planners through Calendar Management Module.
Launching successful campaigns and maximising its success through Campaign Management Module.
Creation, sending and revision of quotes through Quote Management Module.
Automated management of work flow of an organisation through User/Roles and Work Flow Module.
Management and organisation of resource pools through Management Module.
WAREHOUSE MANAGEMENT
Plan, source and transport goods better .
Improve your warehouse efficiency by monitoring products' storage location, which suppliers they are coming from and the length of their storage time .
Improve sales by responding better to the changes in supply and demand .
Control warehouse processes and movements in the warehouse by providing automated procedures of managing warehouse inventory, equipment and staff with the objective of minimising time and cost and improving productivity .
FINANCE
Keep track of your spending.
An easy budgeting tool.
Fast and smooth access to all important information regarding your financial data.
Monitor bank accounts.
Categorise purchases and all other transactions, which helps in setting budgets and monitors spending.
Provide alerts for recurring transactions like rents, pay checks or mortgage payments.
Follow transfers between accounts and downloads transactions from the bank directly.